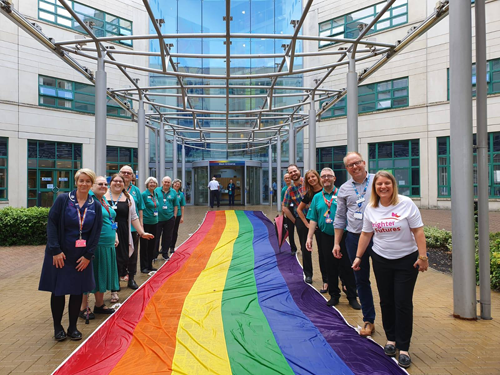 We are focused on creating an organisation that is supportive and safe for all - regardless of background, religion, ethnicity, or gender. 
Whoever you are, wherever you come from and whatever you do, we are excited for you to join our workforce. 
We are one team, and the team morale and friendliness that ripple through all of our services is real. 
We have recently launched our first Equality, Diversity and Inclusion (EDI) strategy, which looks ahead to the next five years and what we want to achieve. 
We have also appointed our first EDI lead and set up an EDI Steering Group led by the Chief Executive to help drive forward change. 
These commitments highlight that we will challenge discrimination and champion opportunity, listening to staff and patients and discussing what they tell us at a senior level.
Our staff networks have developed and matured and in February 2021 we formed a new Differently Abled Network.
We've supported Pride events locally and created a rainbow crossing at the front of the hospital, as a symbol of some of the deeper work being done.
We received an Armed Forces Accreditation for our work to become veteran aware, and in recognition of our commitment to improving NHS care for veterans, reservists, members of the armed forces and their families.
We are an anchor institution and recognise our role and the contribution we can make to improving population health.
This includes establishing a health inequalities lead at Board level.
Our staff networks 
BAME (Black, Asian and Minority Ethnic) Staff Network
We have an active BAME Staff Network, which directly feeds into policies around workforce equality and diversity. This group provides a safe and confidential environment to share experiences in a meaningful way to affect real change.
The Trust has a diverse workforce that represents its local communities, and in the Trust's 2022 statistics, it was reported that 20.5% of the staff group identified themselves as being from a BAME background.
It is clear from the national picture that BAME staff do face inequalities in accessing training, career progression and face an increased level of abuse compared to their colleagues. The group is led by BAME champions, who are here to listen and provide support.
LGBTQ+ Staff Network
We also support the LGBTQ+ community and place great importance on, and are committed to, equality for all. The LGBTQ+ Staff Network aims to increase awareness of issues that specifically LGBTQ staff face and actively influence Trust policies and strategies that impact LGBTQ+ staff.
Differently Abled Network
The Differently Abled Network is a space for staff to connect, share experiences and information, and support each other. It also helps raise awareness of disability issues and gives staff the opportunity to show their support for inclusivity in the workplace.
The network aims to actively influence policies that may impact differently abled staff and support the recruitment of people with disabilities.
Women's Network
The Women's Network sits alongside our existing staff networks and gives a collective voice to staff and opportunities to influence change for the women who work across the Great Western Hospital and in our community teams.
Like our other staff networks, the Women's Network will be led by the discussions staff want to have and the changes they would like to make happen.
Pride in the NHS