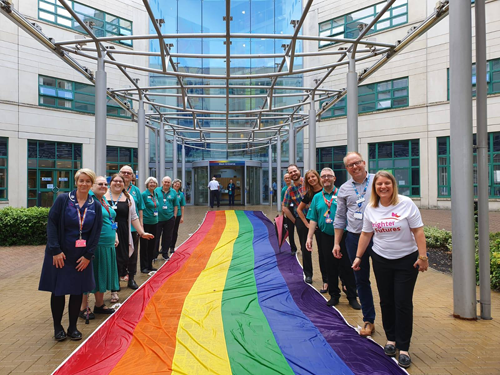 We are serious about Equality, Diversity and Inclusion (EDI) and have delivered our first EDI strategy and appointed our first EDI lead.
Our EDI Steering Group is chaired by the Chief Executive.
These commitments highlight that we will challenge discrimination and champion opportunity, listening to staff and patients and discussing what they tell us at a senior level.
Our staff networks have developed and matured and in February 2021 we formed a new Differently Abled Network.
We've supported Pride events locally and created a rainbow crossing at the front of the hospital, as a symbol of some of the deeper work being done.
We received an Armed Forces Accreditation for our work to become veteran aware, and in recognition of our commitment to improving NHS care for veterans, reservists, members of the armed forces and their families.
We are an anchor institution and recognise our role and the contribution we can make to improving population health.
This includes establishing a health inequalities lead at Board level.
Pride in the NHS