Allied Health Professionals
Jade Dobson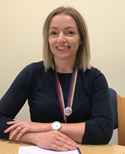 Jade is a proud Dietitian with 13 years' experience across the acute, community, private and commissioning sectors. 
Jade's daily aim is to try and make a positive difference. Some days, the difference she makes might only be small but she knows it still matters.
Jade wants to help achieve a positive difference across the Trust, by representing the experiences of her AHP colleagues and the patients they serve. She knows that collectively, AHPs have a wealth of knowledge and passion that supports the Trust's vision. There are less than a single handful of Dietitians in the UK in an acute ACP role, and the innovative vision that GWH had in creating her post is an example of what we can achieve when we dare to think differently.
Administrators, Maintenance, Auxiliary and Volunteers
Chris Shepherd

Chris has worked at GWH since 2013 as a Biomed engineer and more recently looking after our asset database and the Trust Equipment Quality Management System trying to make sure things run as smoothly as we can.
Working for Trust Equipment exposes you to many parts of the organisation and gives you the opportunity to see how things are working from deep inside. 
In his spare time Chris enjoys doing environmental conservation work and is a school governor at a local school.
In the past he has been a Swindon Borough Councillor as well as working with a couple of conservation charities in the town.
As he works for the Trust, Chris has a fairly clear view of the challenges we face now and going forward, and would like to ensure that all members of staff have an opportunity to contribute to a better future for us, medical staff and our patients.
Doctors and Dentists
Tony Pickworth

Tony has worked as a Consultant in Anaesthesia and Intensive Care at the Trust for over 25 years. In that time, he has held many roles, including clinical leads for specific specialties, as well as in general surgery and urology. Tony was heavily involved in the redevelopment team who oversaw the design and build of the Great Western Hospital. He has investigated incidents and areas of concern and does some work for NHS Resolution assessing practitioners in difficulty.
Tony's experiences help him to understand what clinical staff need from the Trust as well as what patients need. Tony also understands the difficulties faced trying to manage a large acute Trust such as ours in the modern NHS. Tony believes this will give him a balanced viewpoint in undertaking such a role. 
Nursing and Therapy
Emma Wiltshire

Emma has worked in the Trust for 21 years after qualifying as a physiotherapist in 2001. She completed junior and senior II rotations in the acute setting before becoming a specialist physiotherapist in trauma and orthopaedics in 2005. In 2013 she left the orthopaedic therapy team to set up the Trust wide trauma coordinator service which gave all trauma and orthopaedic patients within GWH access to the services and expertise that they required.
In 2020 Emma became the manager of the elective orthopaedic ward just as the pandemic started. During this time, she led the ward team through several changes of patient cohort and two location changes. This also gave her the unusual experience of an AHP managing an acute hospital ward and gave her valuable experience of managing staff from a different profession.
Emma recently returned to the therapy teams and is currently one of the acute therapy leads managing inpatient physiotherapy and occupational therapy teams. From her varied clinical and leadership experience, she has a unique insight into therapy and nursing challenges within the acute trust.