Swindon constituency
(Seven governors)
Natalie Titcombe

As a Governor, Natalie's aim is to help the Trust deliver joined up services for local people at home, in the community and in hospital, helping them to lead independent and healthier lives.

Natalie understands that her role as a Governor will provide a link between the members and local communities, and the Trust's Board of Directors, and will share information about the Trust's performance and future plans. More importantly, Natalie will listen to your feedback and represent your views and interests to the Trust Board, making sure that your views are heard and taken into account when strategies and plans, that will impact you, are being formulated.

Natalie currently works for the NHS as a Therapist. She treasures her job, loves supporting patients, and wants to ensure that the NHS as a whole, and Great Western Hospitals NHS Foundation Trust specifically, can continue to operate and deliver great services.

Lesley Hemingway

Lesley's interest in becoming a Governor stems from her wish to strengthen the integration between health care providers and other organisations in Swindon.

Lesley's work experience over the years has helped to prepare her for this role. She is an active member of the Patient Participation Group for Merchiston Surgery since its inception in November 2011, and now with the PPG for the Wyvern Health Partnership. Chair of the Trustees for the Friends of Beechcroft Community Library for the last 5 years, working closely with Swindon's 'Live Well Hub'. 

Lesley has volunteered at the Great Western Hospital for five years, as a Breast-Feeding support worker. She is the Founder and Manager of Stratton Advice Point, a volunteer-run service, which has operated from Beechcroft Library for the past 38 years. 

In addition to the above, Lesley has also supported many other charitable organisations over the years.

Judith Furse 

Elected April 2020.

Judith is an independent businesswoman who runs Swindon Braille Services and has 25 years' experience of providing specialised braille services to the visually impaired community throughout the UK.

She has a degree in Law and has previously worked for the RNIB (Royal National Institute of Blind People).

She is a skilled negotiator with considerable experience of delivering services, motivating and organising people, and managing change within the voluntary sector.

She is Chair of the Executive and Staffing Officer at Central Church in Swindon, an ecumenical church and registered charity based in the heart of the town which runs a café, works with the homeless, lets out meeting rooms and has employed up to six people.

She is also Chair of the Swindon and Marlborough Amnesty International Group.

Having both a severe visual impairment and limited mobility, Judith is a passionate advocate of equal access to NHS services for everyone, regardless of disability, gender or race.

She has a thorough grasp of what does and does not work for patients and a commitment to making sure accessible information is available for all those who cannot read standard print.

Ashish Channawar

Ashish, a successful technology leader in financial crime covering counter-fraud, anti-money laundering and counter-terrorism financing, has helped many financial services and Government agencies to make the world a safer place.

Ashish describes himself a Swayamsevak, which is a Sanskrit word for community contributor with the mission of selfless service with detachment.

With the passion for community service, Ashish has led many projects like:

Organizing special blood donation drives for NHS to increase donors from BAME background, with a result of 135 donations made with 75 first-timers
Free kitchen serving free food to more than 2,500 people
Supplying food and new clothing for the underprivileged
Supporting Christmas Care and Homeless Shelter
Volunteering at Care Homes for refurbishments as well as to address loneliness
Helping many schools with religious education needs
Fundraising:

£10,500 for a bereaved family in 2019
£54,200 for a bereaved family in 2017
£5,000 for Nepal Earthquake relief in 2015
£4,177 and £3,000 for Rotary Jaipur Limb in 2019 and 2018 respectively

During COVID-19 times, when the demand of the Food Bank almost tripled, Ashish and his team donated more than 1,500kg of nutritious tinned food to Swindon Food Collective.

He has also helped many families in isolation, and elderly people with buying essential supplies, making pharmacy runs, etc.

He is:

An Ambassador of Switch On To Swindon campaign
Deputy Chairman of the Independent Advisory Group of Wiltshire Police
An executive committee member of many charities
A member of FAB Swindon - a community group
A member of the local litter picking group
The co-ordinator for his local Neighbourhood Watch group
A member of Swindon Interfaith
A volunteer for AbilityNet - helping elderly and needy peole resolve issues with technology, and providing support and training

With a passion for community service and strong skills such as audit and inspection, HR and IT, Ashish is keen to use his experience and skills to serve and assist the NHS, the Trust and the community.

Vivien Coppen

Vivien originally trained as a diagnostic radiographer and then specialised in ultrasound scanning.  She worked clinically for many years, and then moved to a lecturing position in a university where she managed a diagnostic ultrasound training programme.

She completed a Doctorate in diagnostic ultrasound, and then moved into a senior management role within the University of the West of England (Bristol) where she was Head of the Allied Health Professions Department for 7 years. This was a large department of 150 staff, and gave her an insight into a variety of healthcare professions, including Physiotherapy, Paramedic Science, Occupational Therapy, Optometry, and Radiotherapy.  She retired from this role in 2020.

She has been a magistrate in Wiltshire for over 8 years, and previously was a Governor for the RUH in Bath where she was the Education representative.

Cecelia Olley

Cecelia has worked in the public and private sectors in education, volunteering and sustainability. She is articulate, tenacious, empathetic, a good listener and accustomed to speaking to people from many backgrounds. 

Cecelia thrives on motivating people and has worked with a variety of groups worldwide. She strives to understand society's challenges and has gained some understanding of the impacts of poverty, illness, mental health, family structure and education. Cecelia has spent a significant amount of time with disabled people and now works in the sustainability sector as an active trustee of the cooperative wind/solar farm in Shrivenham. 

Cecelia has an MSc in Renewable Energy/Technology and learned to develop a long-term perspective; this, coupled with strong organisational skills, will bring a unique perspective to the Trust.

She will be rigorous in standing up for the locals of Swindon and surrounding areas, and ensure that their views are represented to the Trust Board. She is particularly interested in issues of diversity, disability and disadvantage and will emphasise the need to focus on environmental, energy and sustainability issues bringing positive, meaningful change.

Raana Bodman

Raana has developed a wide perspective on the various issues facing the Trust and the complexities of local healthcare whilst in her role as Public Governor. She feels passionate about promoting the voice of patients and her priorities are to improve patient experience, especially for the vulnerable groups, increase diversity and inclusion in membership to reflect patient demographic, and engage with the public with the purpose of getting them involved and represented in Trust's plan. 

Raana has worked for the Swindon Borough Council as a Health and Wellbeing Coach. This provided her with an insight into the health issues faced by the community and the consequent gaps in the provision of health services. Raana has a good understanding of the local NHS services whilst caring for her elderly mother over the years. 

The NHS is going through challenging times and as a Governor, Raana can help it by acting as an interface between the Trust and the community. 

 
Wiltshire Northern constituency
Pauline Cooke

Having been a Governor at GWH for 7 years, Deputy Lead Governor for 4 year and Lead governor for 2 years Pauline still has the passion and enthusiasm to help shape the future of GWH. These past few years we have seen the NHS put under pressure and during this time the Governors have worked tirelessly to ensure that the people covered by this Trust were represented.

GWH faces challenges in the coming years around the NHS backlog and the new ICS framework, which means that GWH, RUH (Bath), Salisbury hospitals will start working together in a more cohesive way. Governors need to be involved in all these areas to ensure that: the patients, carers and family interests are all represented. In the past year we have been putting in place strategies that will allow the governors to be more closely aligned to enable a greater understanding and therefore have greater influence.

Having worked for a big utility company for 25 years (now retired) at the executive HR level, Pauline has been involved in many facets of senior management and aspects of running a large organisation. In addition, Pauline is Vice Chair of Governors for a Special School in Wiltshire which allows her to see how governors work in other sectors meaning all this experience is extremely useful and is valued by the Trust as she is involved in recruitment and other projects representing the governing body on a regular basis.

 
Wiltshire Central and Southern constituency
Chris Callow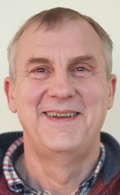 Chris has lived in Wiltshire for 30 years - happily married with four grown-up children and three grandchildren, all born at the Great Western Hospital.
He worked in the computer industry for UK manufacturers International Computers Limited and Cray Communications and American companies Modcomp, Telematics and Cisco Systems.
Later, he was a business analyst and project manager with Wiltshire Council, running projects within the business transformation programme.
He was also a public governor for the Royal United Hospitals Bath NHS Foundation Trust (RUH), and was their Lead Governor for two years, so has some valuable relevant experience.
He is also a trustee of the Wiltshire Museum in Devizes, a Parish Councillor for Bishops Cannings, a member of the Devizes area Independant Police Advisory Committee, and is on the steering committee for the Neighbourhood Plan for the Devizes Area.
These outside roles, and the experience from the RUH, bring useful skills to the Council of Governors; in understanding the role of a non-executive director; bringing and working together with people of different backgrounds.
He has the ability to come up with a plan to deliver what is required, through an understanding of how hospitals work.

West Berkshire, Oxfordshire, Gloucestershire and Bath and North East Somerset Constituency
(One governor)
Rest of England and Wales constituency
(One governor)
If you are interested in becoming a governor please see How to become a Governor.