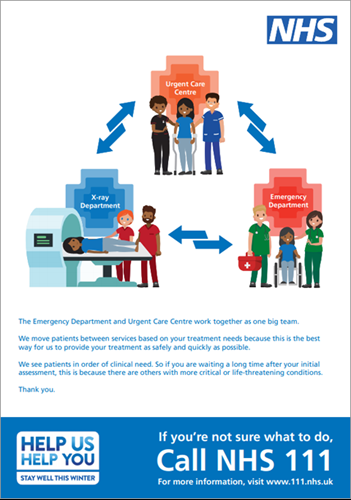 If someone is seriously ill or injured or you think their life may be at risk, call 999 or visit the Emergency Department at the Great Western Hospital.
Working together to treat you as safely and quickly as possible
The Emergency Department and Urgent Treatment Centre work together as one big team.
We move patients between services based on your treatment needs because this is the best way for us to provide your treatment as safely and quickly as possible.
We see patients in order of clinical need.
So if you are waiting a long time after your initial assessment, this is because there are others with more critical or life-threatening conditions.
Changes to Patient Pathway
From Wednesday 27 July 2022, when you need to come to hospital for urgent or emergency treatment, you will be greeted on arrival to the Urgent Treatment Centre by a clinical navigator who will be able to signpost you to the correct place in the hospital for your needs.
This might be to either the adult or children waiting areas in the UTC, or to the Emergency Department if more appropriate.
All patients who are attending the hospital as a walk-in (meaning you need to be seen in our UTC or Emergency Department (ED) but have not been brought in on an ambulance) must enter the hospital through the UTC.
You will then be signposted to UTC or ED dependant on the severity of your condition. Please do not try to enter ED via the back of the hospital – this entrance is now for use by ambulances only.
If you need to attend the Emergency Department outside of UTC opening hours (from midnight to 7.00am), please enter the hospital building via the west entrance (next to the UTC at the front of the building) and follow signs to direct you to the Emergency Department.
Urgent enquiries
If you have an urgent enquiry about a patient who may have been taken to the Emergency Department at the Great Western Hospital, please call 01793 604020.
Location
The Emergency Department is located on the ground floor of the Great Western Hospital.
The Urgent Treatment Centre has now moved to a temporary location across the road from the Shalbourne/COVID Assessment Unit (CAU).
Opening times
The Emergency Department is open all the time.
The Urgent Treatment Centre is open every day, 7.00am-10.30pm.
Further information