The Great Western Hospitals NHS Foundation Trust was pleased to welcome Amanda Pritchard, NHS Chief Executive , to the Great Western Hospital on Friday 4 August 2023.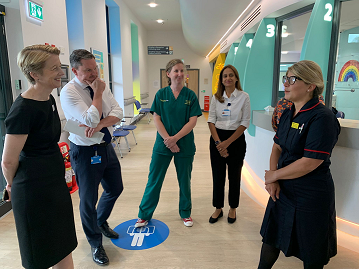 During the visit, Amanda was given the opportunity to learn about our Integrated Front Door plans, which is happening thanks to £31.8 million of national funding. She saw the work underway to develop our new integrated Emergency and Urgent Care Service and heard about recent developments, including the new Energy Centre.
Staff and volunteers from across the Trust were given the chance to meet Amanda, who also visited our Integrated Care Alliance Coordination Centre. This allowed her to hear from our staff about their passion to encourage working together to assess patients' individual needs and coordinate the right care, from the moment they call 111, 999, arrive at ED, or are referred by their GP.
Amanda also visited our Pharmacy department to hear about developments in medicine across the Acute Hospital Alliance. Partners from NHS England South-West, the Bath and North East Somerset, Swindon and Wiltshire Integrated Care Board and Swindon Borough Council also attended the visit. 
In line with the recently announced NHS Workforce Plan, Amanda heard about the drive to improve the equity of training and NHS career opportunities for young people in the town through our partnership work with New College Swindon, NHS Cadets, and apprenticeships. She also heard how we are supporting our international nurses, through our Stay and Thrive programme.
Having spoken frequently herself about the need for continuous quality improvement, including launching NHS IMPACT (Improving Patient Care Together) earlier this year, the visit included examples of our own improvements which have been made possible by Improving Together.
Amanda saw first-hand how our hard-working staff are delivering the very best care to our patients across Swindon and Wiltshire and we look forward to continue working with her on the Trust's upcoming exciting developments.