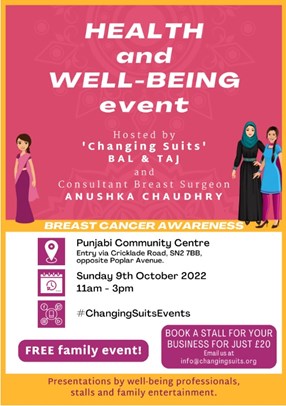 We're excited to be supporting the family-friendly South Asian Health and Wellbeing Event in celebration of Cancer Awareness Month.
It will be held at the Punjabi Community Centre (entry via Cricklade Road, SN2 7BB), on Sunday 9th October, 11am - 3pm, and aims to raise awareness of breast cancer within the South Asian community.
This special event also aims to raise awareness of the barriers to accessing healthcare for the south Asian community, with huge differences in treatment, perception and access to healthcare for south Asian people.
It is hoped that bringing people from different communities and organisations across Swindon will help to share learning, build partnerships and create a better understanding.
Nurses will be available at the event to help members of the public book in mammogram appointments.
There will be presentations by wellbeing professionals, including exercise and nutritional experts.
The family-friendly event will also include a bouncy castle, face painting, henna and stalls from local businesses and services.
Additionally, there will also be volunteers on hand to interpret into Punjabi, Hindi and Urdu.
The event is hosted by Swindon non-profit Changing Suits and Anushka Chaudhry, Consultant Breast Surgeon at the Great Western Hospital in Swindon.
Changing Suits are a non-profit organisation addressing the inequalities and cultural barriers for the South Asian community in Swindon. More information about Changing Suits can be found on its Facebook page at https://www.facebook.com/groups/972805970127227
For more information, please email info@changingsuits.org
Celebrating South Asian Heritage at the Trust
Have a look at our short film celebrating South Asian Heritage month in August this year: https://www.youtube.com/watch?v=X8RJn4PdxqA