Today (15 June 2022) we are celebrating the first National Healthcare Estates and Facilities Day by shining a light on our amazing estates and facilities staff members, and the critical work they do keeping our buildings and services safe, clean, and accessible to patients.
This huge team is made up of 550 members of staff, from multiple professions, that's a significant 10 percent of our entire workforce.
The importance of these teams was highlighted during the pandemic, when less familiar key workers were in the spotlight for keeping NHS services clean, safe, and running smoothly, at such a critical time.
The launch of National Healthcare Estates and Facilities Day aims to keep these teams at the forefront of our minds and raise the profile of the multiple career opportunities in this area.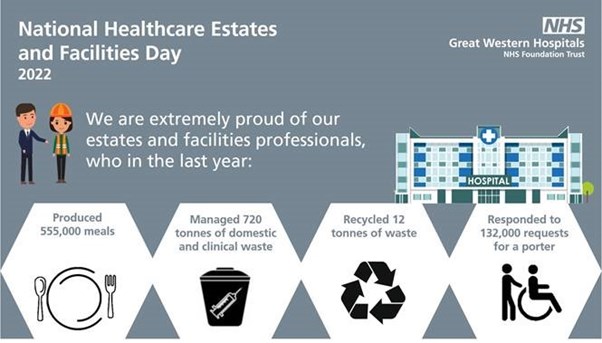 Meet the team
Some of our estates and facilities team members share what they enjoy about their roles. Click on the image below or on the following link to watch a short video https://youtu.be/AWDsnaI6FFU
Facilities management
We have a unique set up, with many of our teams including housekeeping, linen, catering, and portering, employed by Serco, an international facilities management company, who work closely with The Hospital Company (THC) who manage this partnership, and the Trust's own estates and facilities teams.
Despite a different employer, all staff members are very much an integral part of the Trust family and invaluable team members across the Trust.
These services create clean, safe, and comfortable environments, ensure patients are moved safely and food is served, so that our clinical teams can focus on delivering patient care.
Facilities management is a large and diverse family of services which keep everything working safely day-to-day, with patient transport, security, car parking and health and safety officers all playing critical roles, among many others.
These teams also play an important role in waste management and promoting a greener environment, helping the Trust reach its ambitious sustainability target of an 80 percent reduction in emissions by 2032.
Mark Chapple, Head of Estates & Facilities, said: "These are the people you will see every day, cleaning our wards, providing fresh linen, moving, or serving food to patients.
"They may be in the background, but they are at the absolute heart of the care we provide, and I am extremely proud of the professionalism and most importantly the compassion that I see from these dedicated teams."
Estates  
Like any buildings and grounds, our sites need repairs and regular maintenance, so they remain safe and pleasant environments for staff and patients.
The fabric of the buildings needs to be looked after – walls, floors, and windows – as well as the systems inside them – heating, power, and ventilation. 
This is a unique challenge with multiple sites to look after across Swindon, alongside leading several exciting developments on the Great Western Hospital site, as part of the Trust's historic Way Forward Programme.
A £70 million investment is supporting a collection of projects to expand and improve local healthcare services for the Swindon population, which is expected to grow by 40 percent by 2031. 
This summer, visitors to the Great Western Hospital site will see the opening of the much-anticipated Radiotherapy Centre and Urgent Treatment Centre, examples of great partnership working between the Trust and Serco's capital project teams.
There are also lesser-known projects which will make a big impact, including an on-site energy centre and upgrade to the site's oxygen facility.  
New Energy Centre
The Energy Centre will provide additional heat, chilled water, and power to the new Urgent Treatment Centre and future developments to our urgent and emergency care services.
The team carefully designed and executed the Centre with the Trust's sustainability targets in mind, using modern construction methods and renewable energy to power the heat pumps, without burning fossil fuels.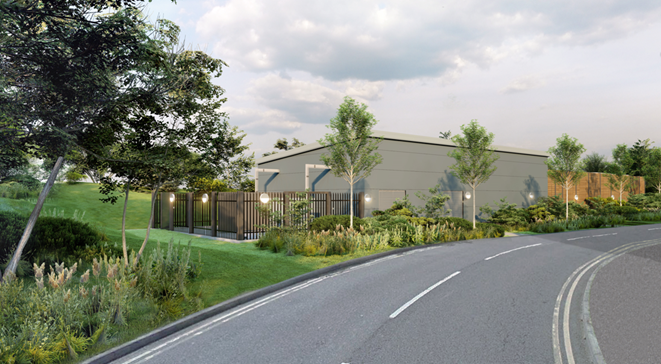 Oxygen Upgrade
As one of the largest NHS oxygen projects undertaken during the pandemic, the Trust's Oxygen Upgrade will provide clinical teams with additional oxygen capacity, improving our ability to care for higher numbers of patients needing oxygen.
This need was brought to light during the pandemic with the rapid increase in patients needing oxygen support due to COVID-19.
The largescale and extremely complex project required oxygen to the hospital to be temporarily shut off for ten times in the last year and 2 km of copper pipework to be installed.
The team's success has resulted in a 300 percent increase in oxygen capacity which will benefit the Trust's most unwell patients.
Thank you
Thank you to our amazing unsung heroes in estates and facilities who work tirelessly to keep all our services running smoothly, 24/7, 365 days a year.