Wednesday 27 July: First patient seen in new Urgent Treatment Centre
Our brand new Urgent Treatment Centre (UTC) is now open to the public. 
Chris was the first patient to be treated in our new Urgent Treatment Centre. He said: "It's really nice. It makes you feel better as soon as you come in, and I'm sure it is going to be much better for patient care."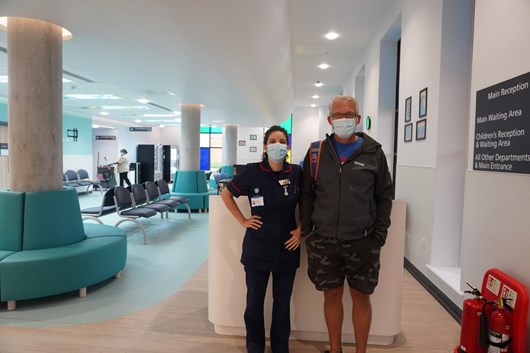 Here is Chris with UTC staff member Ingrid, our Clinical Navigator. Ingrid is the first person patients will see when they enter the UTC for urgent or emergency care, and she will navigate every patient to the right place for their care needs - which could be still in the UTC or round to the Emergency Department if needed.
It's really important that you contact NHS 111 in the first instance, as they can also direct you to the best place for your clinical needs, including local GP surgeries or a pharmacist, or they can book you in for a timed appointment slot at the UTC so you don't need to wait.
Friday 8 July: Ribbon cutting ceremony takes place
On Friday 8 July, staff and a patient from Great Western Hospitals NHS Foundation Trust formally opened a brand new Urgent Treatment Centre on the hospital site.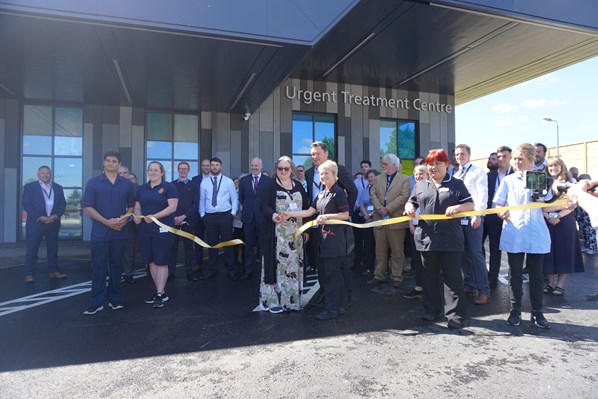 The ribbon-cutting ceremony marked one of the biggest milestones for the Trust in recent years and follows the opening of the new OUH Radiotherapy Centre on the GWH site two weeks ago.
The new facility was made possible after the Trust successfully bid for £15m of funding and demolition began on the old Urgent Care Centre last May.
The new UTC building, which has been delivered by IHP (the alliance between VINCI Construction UK and Sir Robert McAlpine) has additional clinic rooms and more space in both the adult and paediatric waiting areas. It also homes new plaster and ophthalmology rooms.
Designed with input from patients and staff, the UTC is inclusive and accessible for all; with the Trust's first ever changing places facility for children and adults with disabilities, block colour pallets for patients with dementia, lowered reception desk access for wheelchair users and a sky ceiling to bring the outside, in.
It also uses calming colours, a nature theme in the children's waiting area and displays artwork donated by local children, depicting their NHS hero.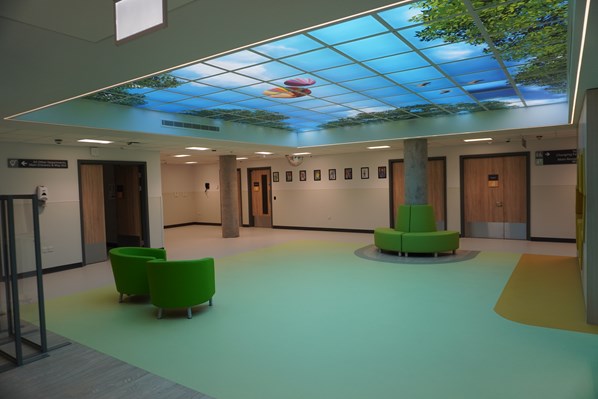 Kevin McNamara, Chief Executive of the Trust, said: "Today, we officially opened our new Urgent Treatment Centre – a modern, fit-for-purpose building which will enable clinical teams to treat patients in the best possible environment.
"We successfully bid for £15m of national funding to help get us started, but today wouldn't have been possible without the incredible support along the way of a number of people and organisations.
"It's well-known that the health and care system is extremely busy and has been under significant pressure for some considerable time. Last year here at GWH we saw more than 117,000 attendances in urgent and emergency care.
"Whilst we know that a new building won't solve the issues the system is experiencing, it does give us the chance for our fantastic multi-disciplinary teams to work together with colleagues from across the health and social care system to try to give patients the care they need it when they need it, and in the right place."
The UTC will open its doors to the first patient on Wednesday 27 July and will be open 365 days a year, 7:00am – 10:00pm for patients to book in, closing at midnight. Local people are encouraged to call NHS 111 in the first instance, with trained operators who can advise of the appropriate healthcare option and book in for a timed appointment at the UTC if needed.
Changes are also now in place for patients accessing the Emergency Department. With a new clinical navigator in post, patients will be triaged at the door of the UTC and directed to a location in the hospital more suitable for their clinical needs.
This means all patients attending hospital as a walk-in must now enter the building through the UTC.
Dr Satinder Mann, Consultant in Emergency Medicine and Clinical Lead for the UTC, said: "I know there will be significant benefits for the patients using this new space. Recovery starts at the door and creating an environment that feels less clinical and more welcoming and calming will have profound positive impact on all who will attend."
Russell Flowers, Regional Director at VINCI Building and IHP said: "This has been a fantastic project.  With the successful culmination of three years hard work by the Trust, our project team, consultants and supply chain, we are honored to have been a part of delivering such an essential facility that will bring real benefit to the community, patients, staff and visitors for many years to come".
Next to the UTC is a new Energy Centre, which will generate energy to power the building through more sustainable means than the Trust has ever seen before.
The Energy Centre will help the Trust achieve its NHS Net Zero Carbon target through the installation of Air Source Heat Pumps which work without burning any fossil fuels and generate a 100% renewable electricity contract.