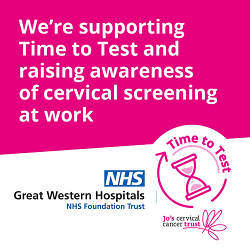 One in three women and people with a cervix in Swindon, don't take up the offer of cervical cancer screening, so Great Western Hospitals NHS Foundation Trust is making it as easy as possible for staff with a dedicated staff screening clinic at the Great Western Hospital.
The Trust has been awarded the prestigious Time to Test employer certificate with Jo's Cervical Cancer Trust, which shows its commitment to ensuring all staff have the time to test.
Bev Breen, Cervical Screening Lead for the Trust, said, "While there are many reasons it can be a difficult test, we know that getting an appointment around work can be a huge challenge. We want to change that by making it easier for our staff based at GWH."
Cervical Cancer Prevention Week, organised by Jo's Cervical Cancer Trust, is particularly important this year, due to a worrying drop in the number of people coming forward for cervical screening.
In Swindon, just 68.6 per cent of women and people with a cervix aged 25-49 took up the invitation for screening in 2020/21, meaning 13,690 did not take up their invite.
This is a decline of 2 percent from 2019/20, with a similar trend seen across the country.  
The screening helps to detect abnormalities within the cervix and prevent the potential development of cervical cancer.
All eligible people who are registered with a GP (as female) automatically receive an invitation by mail.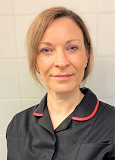 Michelle Weller, Lead Nurse for Abbeymeads and Moredon Medical Centres in Swindon (pictured), said, "In the last couple of years we've seen fewer patients attending screening.
"Last year, 452 patients booked cervical screening appointments with our GP surgeries across Moredon, Abbeymeads, Crossroads and Penhill, which they didn't attend.

"I think people have stayed away because of COVID, but I'd like to reassure people our surgeries are open, we are following strict infection control measures, and we still want to see you.

"If you've lost your invitation letter, missed your last appointment or you think you are due a screening appointment, please get in touch.

"It's important to remember that even if you've had the HPV vaccine, you still need to have cervical screening."
Local people should contact their GP surgery to book an appointment.
If you're a patient of Moredon, Abbeymeads, Crossroads or Penhill surgeries, you can book through a dedicated email swiccg.cervicalscreening@nhs.net.
Jo's Cervical Cancer Trust, the UK's leading cervical cancer charity, provide valuable, trustworthy information and support for anyone who has questions or wants to talk about any aspect of cervical screening and results, and are there for anyone with a cell changes or cervical cancer diagnosis.

To learn more about the NHS national screening programme visit Cervical screening: programme overview - GOV.UK (www.gov.uk)