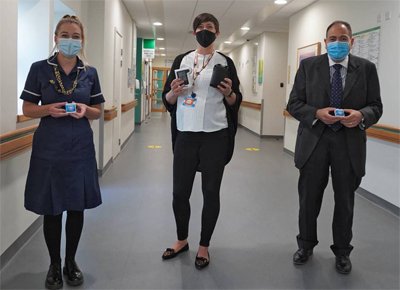 Miniature cameras which patients can swallow to get checked for bowel cancer, are now being piloted at Great Western Hospitals NHS Foundation Trust in Swindon, with the first patient receiving this treatment today, on 28 September.
The Trust will be one of four NHS Trusts in the south west to pilot these cameras on an initial group of 11,000 NHS patients.
Known as a colon capsule endoscopy, the cameras are the latest NHS innovation to help patients access non-invasive cancer checks at home.
The imaging technology, in a capsule no bigger than a pill, can provide a diagnosis within hours with minimal inconvenience to the patient. 
Traditional colonoscopies involve inviting patients to hospital for an outpatient procedure, where they will have a tube inserted into the large intestine. This can be a rather invasive procedure, whereas the new technology will mean that after swallowing the capsule, people can continue to go about their normal daily activities.
Mr Anwar Owais, Consultant Colorectal Surgeon, who is leading this project in Swindon and who will be providing this service said: "We are really excited to be one of four NHS Trusts in the south west to pilot this new technology and I think this will be a great step forward towards improving the experience for patients needing a colonic investigation. I am very proud and honoured to be part of this project in Swindon.
"Colon capsule endoscopy provides high quality images of the whole gastrointestinal tract, from mouth to anus which allows us to perform a more holistic assessment on the patient. It also offers a more patient friendly alternative to existing investigations.
"Importantly, the capsule cameras will help to speed up the checks and avoid delays in cancer diagnosis. It will also help us identify which patients can be discharged and which patients need further investigations."
People who are experiencing any symptoms of cancer are urged to seek help early on by speaking to their GP about their concerns - Please do not delay coming forward for care.
Pictured above, left to right: Amy Cripps, Two-week Wait Colorectal Cancer Specialist Nurse; Stacey Fussell, Thames Valley Cancer Alliance - Cancer Services Improvement Programme Manager; Mr Anwar Owais, Consultant Colorectal Surgeon; showing the PillCam and reader.