The Trust has been accredited as a 'Veteran Aware' organisation.
This means that we have made a commitment  to the Armed Forces Covenant, to ensure that we meet high standards to support our staff, patients and their families.
The Covenant is a promise by the nation ensuring that those who serve, or have served in the armed forces, and their families, are treated fairly.
In the context of the Trust, this means:
Ensuring members of the armed forces, armed forces veterans, and their families, have appropriate access to relevant health and care services
Identifying patients who are members of the armed forces, armed forces veterans and their families so that they can be signposted or referred to external organisations who will be able to provide additional advice, support and services
Supporting and encouraging transition from the military to employment within the NHS
Supporting armed forces veterans through the Trust recruitment process, once they have applied to work for the Trust
Supporting Trust staff who are, or considering becoming, an armed forces reservist; offering special leave to enable fulfilment of reservist training commitments and provision of advice and support for any staff who are mobilised
Identifying Armed Forces patients and staff
We ask all patients to tell our staff if they are a member of the armed forces, an armed forces veteran or have close family connections. This is so that we can ensure they receive the appropriate care and referral to support and advice services.
Similarly, we ask all of our staff to identify themselves to their line managers, so that we can ensure they are receiving the appropriate benefits and support.
Joint Covenant
As well as our own Covenant, we also commit to the joint Covenant issued by Swindon Borough Council - please see the Swindon Borough Council website: Armed Forces Covenant.

Pride In Veterans Standard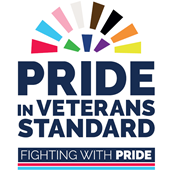 As a Veteran Aware organisation we want to ensure that we are proactive in making the whole veteran community feel confident in accessing our services and support, knowing, that when they do, they will be treated with dignity, respect and understanding. We are working with the Fighting With Pride military charity to develop and improve our LGBT+ welcome and support services. 
We are working to ensure that our staff have an awareness and understanding of the different challenges face by LGBT+ people, in particular, those who were impacted by the Armed Forces ban on homosexuality. We want our staff and patients to feel supported and the needs of LGBT+ veterans, serving personnel and their families understood. We aim to Promote inclusion, dignity and respect for LGBT+ people in everything we do.
For more information you can visit: Pride in Veterans Standard (fightingwithpride.org.uk)