Greener NHS
Climate change poses a major threat to our health as well as our planet.
The environment is changing, that change is accelerating, and this has direct and immediate consequences for our patients, the public and the NHS.
In October 2020, the NHS became the world's first health service to commit to reaching net zero carbon, in response to the profound and growing threat to health posed by climate change.
The Delivering a Net Zero National Health Service report sets out a clear ambition and two science-based targets.
As part of the Greener NHS programme and NHS standard contract, NHS trusts are required to develop a Green Plan to outline their commitments to reduce environmental impacts and decarbonisation to reach net zero in line with the NHS targets (please see the NHS England website: Greener NHS).
Our Green Plan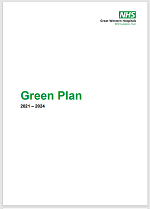 Our first board-approved Green Plan for 2021-2024 outlines the actions and initiatives we aim to deliver to address our sustainability and net zero targets.
Sustainability is fundamental to maintaining high quality care; to help us meet the needs of today without compromising the needs for future generations.
Our environment has a direct impact on our health; since the coronavirus (COVID-19) pandemic, this has become even more apparent.
The virus has placed unprecedented pressure on all areas of the NHS; we must tackle the climate emergency with the same level of significance if we are to safeguard our future from the impacts of climate change.
All our staff will need to play their part in delivering this Green Plan for the Trust to be a truly sustainable organisation.
Our Integrated Care System
We are part of the Bath and North East Somerset, Swindon and Wiltshire (BSW) Partnership integrated care system (ICS).
Our ICS helps to improve health and wellbeing of local people, tackle health inequalities, and ensures that high quality health and care services are delivered by bringing together a Clinical Commissioning Group, three hospital trusts, private providers, a mental health trust, an ambulance trust and voluntary sector organisations.
Our ICS is developing a consolidated system-wide Green Plan which will summarise the Green Plans within our ICS.
The ICS Green Plan will develop system-wide priorities, coordination and will also focus on the integration of Trust Green Plans with the efforts of primary care, local authorities and other local care partners.