The biggest milestone yet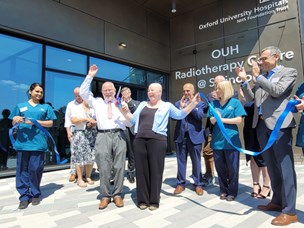 After many years of planning, fundraising and construction, Wednesday 22 June 2022 marked the official opening of the new Oxford University Hospitals Radiotherapy Centre @ Swindon.
Clinicians, patients and supporters from Oxford University Hospitals and Great Western Hospitals joined together today, alongside building firm Sisk, for the official opening – which has been long anticipated for thousands of local people undergoing treatment for cancer.
Building on site started in August 2020, with the ground-breaking ceremony taking place in October 2021. 22 June marked the biggest milestone yet, with a ribbon cutting ceremony and speeches from some of the people who have been instrumental in bringing radiotherapy to Swindon.
The ribbon was cut by two patients from Swindon, Fred Bassett and Sandra McGlone, alongside Liam Coleman, Chairman, Cat Weaver, Associate Director of Fundraising and Voluntary Services and senior representatives from OUH. Guests were also invited to walk around the Radiotherapy Centre, and had the opportunity to see the two new linear accelerators - mostly used for external beam radiotherapy - and a CT scanner which was fundraised by Brighter Futures.
The first patient will be treated at the Radiotherapy Centre later in the summer.
Bringing radiotherapy closer to home
Swindon was one of the very few parts of the country without a radiotherapy service. The development of a local radiotherapy service for cancer patients diagnosed at Great Western Hospital will mean over 13,000 patient journeys for radiotherapy treatment will be significantly shorter every year. 
Currently, the 70-mile round trip is adding extra stress and anxiety to patients who are already facing an extremely difficult time, and our goal is to ensure many cancer patients diagnosed locally receive the best possible care and can have their radiotherapy appointments and treatments closer to home, and closer to their support networks.
A cancer diagnosis affects not only the patient but ripples out to so many others. Radiotherapy in Swindon will offer much needed support to every patient, but also to hundreds of families, friends and carers as well.
Kevin McNamara, Chief Executive, said: "Radiotherapy being provided from Swindon has been in the pipeline for a number of years, and I'm thrilled that we are opening a brand-new Radiotherapy Centre right here on the Great Western Hospital site.
"Every day, many local people travel over 70 miles to Oxford for treatment but bringing radiotherapy closer to home will save thousands every year the extra travel and stress during what is an extremely difficult time.
"We are only in a position to open the Centre due to the help and support of so many; from staff, contractors, architects and our local community who have been instrumental in raising millions for the Radiotherapy Appeal.
"My thanks goes to every person who has helped us get to this stage. We hope that, with the relationship we've formed with Oxford University Hospitals NHS Foundation Trust, many patients will have a much better experience when receiving treatment for cancer."
We couldn't have done it without our local communities
Back in 2015, our Trust charity, Brighter Futures, launched an appeal of £2.9million to raise money which would be used to purchase key clinical equipment within the new Radiotherapy Centre.
2,391 days after the first pound was donated, the efforts of the local community were rewarded with the official opening.
It was an incredible 3.5 years of fundraising for Brighter Futures that has seen thousands of local people across Swindon and surrounding communities, including a large number of our own staff, come together and do some truly amazing things for the charity. 
Supporters have jumped out of planes, cycled across the UK, motored to Cyprus and Mongolia, climbed Mount Kilimanjaro and taken on the London Marathon and Great North and South runs.
Many more incredible people have held bingo nights, baked cakes, hosted tea parties, shaved their heads and so much more. Together we have been united in the fight against cancer which has affected so many families in our local communities.
We want to say the biggest thank you to each and every person who has donated to the Radiotherapy Appeal. Whether you gave us a pound or a thousand pounds, your contribution has meant that we were able to build this incredible new Centre that will benefit so many.