Another milestone has been reached in the programme to bring radiotherapy to Swindon. 
Local Rotarians were given a private, socially-distanced tour around the centre at Great Western Hospital, following their major fund-raising efforts being transferred to the project team.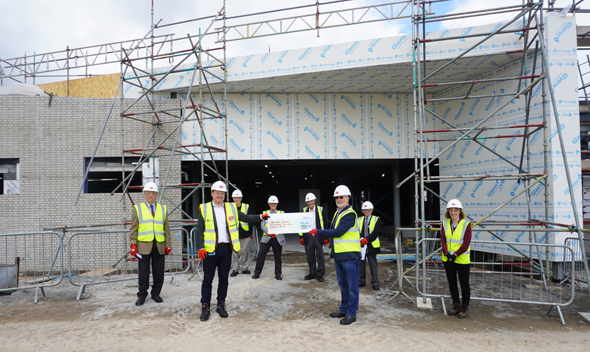 The Rotary Clubs of Swindon and Wiltshire, and International Rotary, have been key to the delivery of the project, being by far and away the biggest donors to the project, giving more than £300,000 to the new centre. 
This is the largest ever Rotary Foundation Global Grant to be awarded to a project based in the United Kingdom and Ireland, and it will dramatically improve access to radiotherapy and cancer treatment in the South of England. 
The Rotary's first donation kick-started the Brighter Futures appeal in 2015 and their pledge in December 2018 closed the £2.9 million appeal and ensured radiotherapy treatment was coming to Swindon. 
Peter Wells, District Rotary Foundation Chair and member of the Global Grant Team, said:  
"This is a local effort by local Rotarians from Swindon, Royal Wootton Bassett and Marlborough, backed by Rotary International. This is what Rotary is all about: delivering practical projects that provide potentially life-changing solutions to local problems. We are pleased today as Rotarians to be serving by our actions the people of Swindon and beyond." 
Kevin McNamara, Great Western Hospitals NHS Foundation Trust Chief Executive, said: "We are eternally grateful for the support of the Rotary Club - quite simply, without their extremely generous donation this major project would not be taking place. Work on the centre has really taken off over the past few months and I was pleased the Rotarians were today able to see first-hand how their contribution is helping to bring radiotherapy treatment to Swindon." 
Building work on the Swindon Radiotherapy Centre began in August last year and is due to be completed later this year. 
The centre will be an expansion of Oxford University Hospitals NHS Foundation Trust's radiotherapy service, meaning most Swindon patients will no longer need to travel to Oxford for treatment. 
This huge development was made possible thanks to the support of the Rotary, Brighter Futures and the incredible efforts of local fundraisers, including many staff, patients and local people.