Welcome to our People Strategy (below), which sets out our approach to developing, strengthening and retaining our workforce over the next five years.
Now, more than ever, we need our people to feel valued, equipped and empowered to provide the best possible experience and outcomes for patients.
An ageing and growing population, a greater prevalence of chronic diseases and innovations in technology, mean we need to think differently about how we provide care.
Every member of the team is key to addressing these challenges, and together, developing services which provide the highest quality of care to our patients.
We also know that equality, diversity and inclusion must be central to everything we do, for ourselves, for patients and the community.
Creating this strategy has involved listening to our staff and exploring best practice both within the NHS and in other organisations.
We have also focused on the priorities in the Interim NHS People Plan, NHS Long Term Plan, and our Sustainability and Transformation Partnership (STP).
To achieve our vision, it's vital that we engage all of our staff and volunteers and ensure that everyone understands the huge difference they make to each patient's journey.
Please click on the link below to download the Strategy.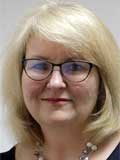 Jude Gray
Director of Human Resources
Download the Strategy